Intro
As a Turo host (car sharing) and a guy that moved to Denver when only knowing two people that were living here, I have lots of guests and friends visiting me asking for recommendations on things to do in Denver and Colorado. I aim to combine my thoughts here to serve as a reference for myself…and others!
P.S. To keep this post to appear shorter than it is, I have included "spoilers" in some of the sections. Click on them to expand additional information. (Look for the ❗️)
Example, click to show more ❗️

Good job! Keep reading 😎
P.S.S. Think I'm missing something? Contact me or comment below!
Skiing / Snowboarding
Colorado is home to some of the best skiing in all of North America, many of it an hour or two drive from Denver. I have to start this post by covering the gnar 🤙⛷🏂
Visit COtrip.org for webcams and road conditions provided by the state. The webcams are actually very handy and the road closures are useful during big snow storms.
If you're a beginner, take a look at Ruby Hill and Winter Park's Galloping Goose lift (both are free). Winter Park doesn't advertise that Galloping Goose is a free lift for beginners, but I have confirmed it myself as of the 2022-2023 season that it still is (although I've heard it can change from year-to-year). View my post "The Best Places to Ski in Colorado without a Season Pass" for additional information.
If you have an Epic or Ikon pass, you probably already have a plan of where you're going. If you want to go to one of those resorts, your options will either be a season pass or a (multi) day pass. Season passes are only sold until ~November. Season passes are $500-$1200 depending on when you buy them (cheaper the sooner you buy them) and how much access you want (blackout dates on holidays will result in cheaper passes). Day passes go for ~$200 nowadays (ridiculous), with slight discounts for purchasing a multi-day (2, 3, 4+) pass. If you ski with a season pass holder, they can buy you reduced day (buddy/friend) passes but they're still expensive (~$150/day).
If you don't have an Epic or Ikon pass, there are a few resorts left that are still holding out from getting bought out by a conglomerate. Their day passes will be more reasonable. And if you're a beginner shredder, they're a great place to learn. Day tickets at these places are around $100. View my separate post for best resorts without a season pass: "The Best Places to Ski in Colorado without a Season Pass"
Hiking
Unlike skiing, hiking is something to do in Denver and its nearby areas year-round (yes, even in the winter). Denver averages highs nearing 50°F (10°C) in the winter. Combine that with nearly "300 days of sunshine" and winter hiking can be very enjoyable!
AllTrails (Apple App Store, Google Play Store) is the de facto app for finding places to hike and recording your hiking activities. I highly recommend it for any prospective hikers, no matter where you live.
If you are in shape and active, you can do most AllTrails hikes rated as "hard" (Ex. I would not take any normal parents above 50 years old on this hike but any college student that plays intramural sports should be fine). I believe anyone that can go for a 3mi (5km) walk can do an "easy" hike. The "moderate" hikes are somewhere in between the two 😜
The best thing about AllTrails is their ratings and information about hikes. This is a link to their most highly ranked hikes in Colorado (I have done half of them and can confirm). This is a link to their best hikes in Denver (more like walks in the park). Search for the area you are staying in or what is near you and go from there.
If you're big into hiking, Colorado has over 50 peaks that are above 14,000ft (4,267m). These are known as "14ers". There are no easy 14ers. Even the "easier" ones are multi-hour hikes, 5+mi round trip, rapidly changing weather conditions (normal to have thunderstorms in the afternoon that pushes the astute mountaineerer to start around sunrise and finish around noon), and noticeably less oxygen at the top than the bottom. Do your research before attempting to summit one of these.
Here are some of my favorite hikes (ordered for proximity to Denver with closest at the top of the list):
Click to show some of my favorite hikes ❗️
Concerts
Find all concerts going on in Denver's venues by looking at a ticket reseller, such as SeatGeek. Below I provide information on my favorite venues to see shows: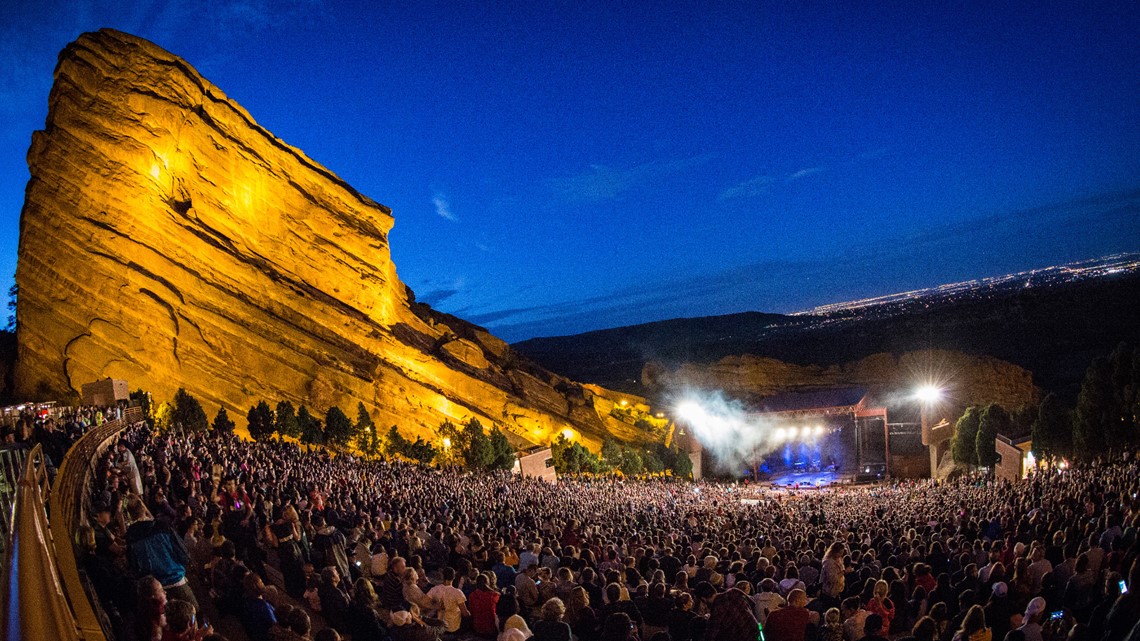 Food
Disclaimer: I am not a picky eater and I very rarely go to expensive restaurants, so keep that in mind:
Map
Note that yellow is for breakfast/brunch spots, orange for lunch/dinner, purple for dessert.
Breakfast/Brunch
Lunch/Dinner
Click to show some of my lunch recommendations ❗️
Dessert
Little Man Ice Cream

Just some really good ice cream that will probably have a 20 minute (outdoor) line no matter the month
I like salted oreo if it's available!
Nightlife
Note that there are many, many more than this. These are just some of my favorites.
Downtown

Larimer street and Market street

Dierks Bentley's Whiskey Row, Larimer Beer Hall, ViewHouse (Ballpark location), Retro Room, Gin Mill, Star Bar (karaoke), Herb's (live music)

River North (RiNo)

Blue Moon Brewery, Number 38, Improper City, Finn's Manor, Federales, Lustre Pearl, Matchbox

South Broadway

Adrift, Irish Rover, Canopy, Historians, Punch Bowl Social, etc.
Stranahan's Distillery (whiskey)
Honorable mention to the Dive Inn. A dive bar with cheap drinks, pool, and ping pong.

5 min drive away from other bars

LoHi

I don't go out in LoHi very often but Avanti is very popular

The Grizzly Rose

A massive bar located 10mins north of Denver
The premier spot for country dancing, mechanical bull riding, etc. Yee to the haw! 🤠
Water things
It gets hot here in the summer!
Other
Rent a scooter/bicycle and explore the city

Easier when you have a tour guide that can lead you to bicycle friendly roads
E-bikes are great for older / less active family members
Some scooter companies offer unlimited use day passes for ~$25

Bicycle around Dillon reservoir

The most scenic bicycle ride that I've ever done
20.5mi loop with one steep section (but you can always turn around once you get there!)
E-bikes available for rent nearby that make this ride accessible for almost everyone no matter their fitness

Aquarium

I haven't been there but it's gotta be a good spot for families, right?

Colorado Rockies (baseball), Denver Broncos (American football), Colorado Avalanche (hockey), Denver Nuggets (basketball), Colorado Rapids (soccer), Colorado Mammoth (Lacrosse)

Common to go to Rockies games on a Friday or Saturday night, then walk to bars downtown.

"The Rooftop" in Coors Field is the spot to pregame

Drinking! 🍻

Coors brewery tour (Golden, CO. ~25min from downtown)

$20 for the guided tour or $10 for samples only
Reservations required
Available Friday - Sunday (and maybe some Thursdays)
~1.5hr tour

Visit one or many of Denver's local breweries, distilleries, or even wineries.
PubPass offers a $25 book that includes buy one get one drinks at 25 different places. Consider it an investment.

Gamble in Black Hawk

Black Hawk is the Las Vegas of Colorado
Outro
If you made it this far, thanks for reading! Think I'm missing something? Contact me or comment below!